Students in India still are not aware of insurance jobs. What they are interested in is bank jobs?
Millions of students prepare for Bank PO job and they hardly know about the insurance jobs.
Hence in this article we decided to write about LIC AAO job.
Public as well as private sector insurance companies and banks are recruiting thousands of candidates each year for various job profiles related to insurance jobs.
Here we will talk specifically about the LIC AAO jobs.
We talk about the job profile and salary of the AAO job. But the most important part of the article is growth opportunity of LIC AAO.
Finally we will do a little comparison between LIC AAO job and Bank PO job.
So keep on reading.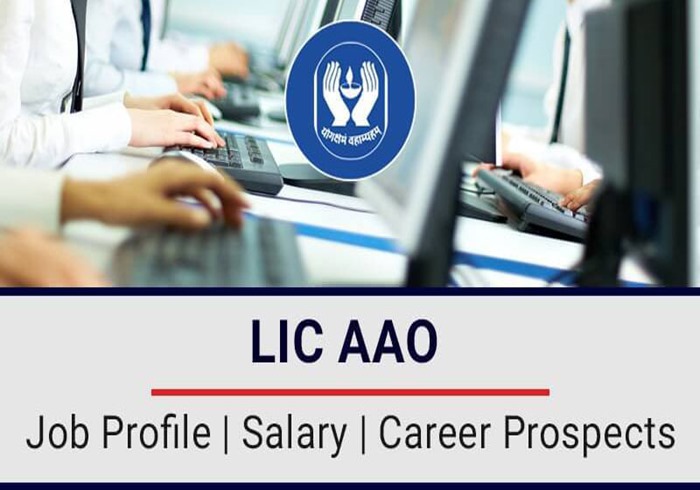 LIC AAO Job Profile
Those who do not know anything about the LIC AAO job must read this paragraph.
There are only approximately 700 vacancies per year available for LIC AAO.
AAO stands for Assistant Administrative Officer and the work involves a lot of administrative work.
Here are some of the roles you may find in while working as AAO.
You will be devising new insurance schemes and inspecting policies.
You have to interact with the clients as well as you have to manage and file claims
You are going to communicate and coordinate with other departments in the company about enquiring policies and schemes.
You also have to perform various other jobs given by your superiors and department heads.
The AAO job does not involve travelling however you have to go certain places to talk to clients and sought out an issue.
As an AAO you have to work for various departments. Here are they.
Finance and Accounts
New Business
IT
Policy Servicing
Marketing
Claims
Inspection etc.
Your jobs as an AAO could be anyone of these departments. These departments are operational at national, zonal, divisional and central office level.
So this was the job profile of an Assistant Administrative Officer.
Salary and Other Benefits
Before we talk about the future prospects for the AAO job you need to know about the salary and other perks that they get.
If you are living in a metropolitan city then the monthly salary for an AAO is anywhere between Rs 40,000 and Rs 42,000 per month depending upon the allowances given by the company in your city.
However if you remove the allowances from the above figure then the base salary or in hand salary is around Rs 33,000 to Rs 34,000 per month.
So around Rs 7000 to Rs 8000 contributes to just allowances.
But if you do not live in a metropolitan city then your salary could be around Rs 17,250 excluding all the allowances.
Moreover, AAO is entitled for Provident Fund, pension plan, 2 and 4 wheeler loans, medical claim, loans and many other benefits.
So this is an AAO earns every month.
However there is a rumour that the government may increase the salary in coming years.
Growth Opportunity and Future Prospects
After reading the previous paragraph you might be thinking that the salary is ok but is there any growth opportunity in the company beyond AAO.
Let me be honest here. There is a genuine growth opportunity for an AAO.
Why am I saying so?
LIC is the number one insurance company in the country right now. It is still by far the major player in the industry.
Moreover more and more people are getting insured daily.
Hence the company is getting bigger and it is expanding.
It requires large number of employees for various job profiles. So a growing company needs more AAOs so that after getting some experience they are going to take charge of the administrative jobs.
If you have worked as an AAO for few years then you can be recruited for the senior level jobs.
You can be promoted to higher levels according to your work experience.
Here is the job ladder.
Level 1: AAO
Level 2: Administrative Officer – After some experience you become Administrative officer.
Level 3: Assistant Divisional Manager " This is the third level.
Level 4: Divisional Manager " If you work for more than 2 to 3 years then you can become Divisional manager.
Level 5: Senior Divisional Manager " Fifth Level.
Level 6: Zonal Manager " You can rise up to Zonal Manager.
So if you have an experience of 5 to 7 years then you can rise up to zonal managers.
LIC AAO Vs. Bank PO
Let us do a small comparison between LIC AAO and Bank PO.
If you start with comparing salary then Bank PO makes Rs 34,000 to Rs 38,000 (base salary) while for LIC AAO is Rs 33,000 to Rs 34,000 per month.
Both jobs are transferable and you get transfers.
In Bank PO you are eligible for promotion after 3 to 4 years but for LIC AAO it takes at least 8 years.
So in short both jobs have advantages and disadvantages but still people prefer Bank PO job more.